Learn about In-Game Crypto Assets
Chapter 2 of Quickstart Guide
What makes CryptoEmpire unique? CryptoEmpire stands out from other games by integrating blockchain technology to enable a new gaming experience with crypto tokens and NFTs. The coolest thing about the crypto assets is that you can transfer them between your crypto wallet and the game. Additionally, you can bring crypto tokens and NFTs into CryptoEmpire to use in the game; or you can withdraw assets from the game back to your wallet to trade with others. This easy transferability makes CryptoEmpire one of the most user-friendly blockchain games, which is also our goal to make CryptoEmpire the first crypto game that anyone can jump into and understand right away!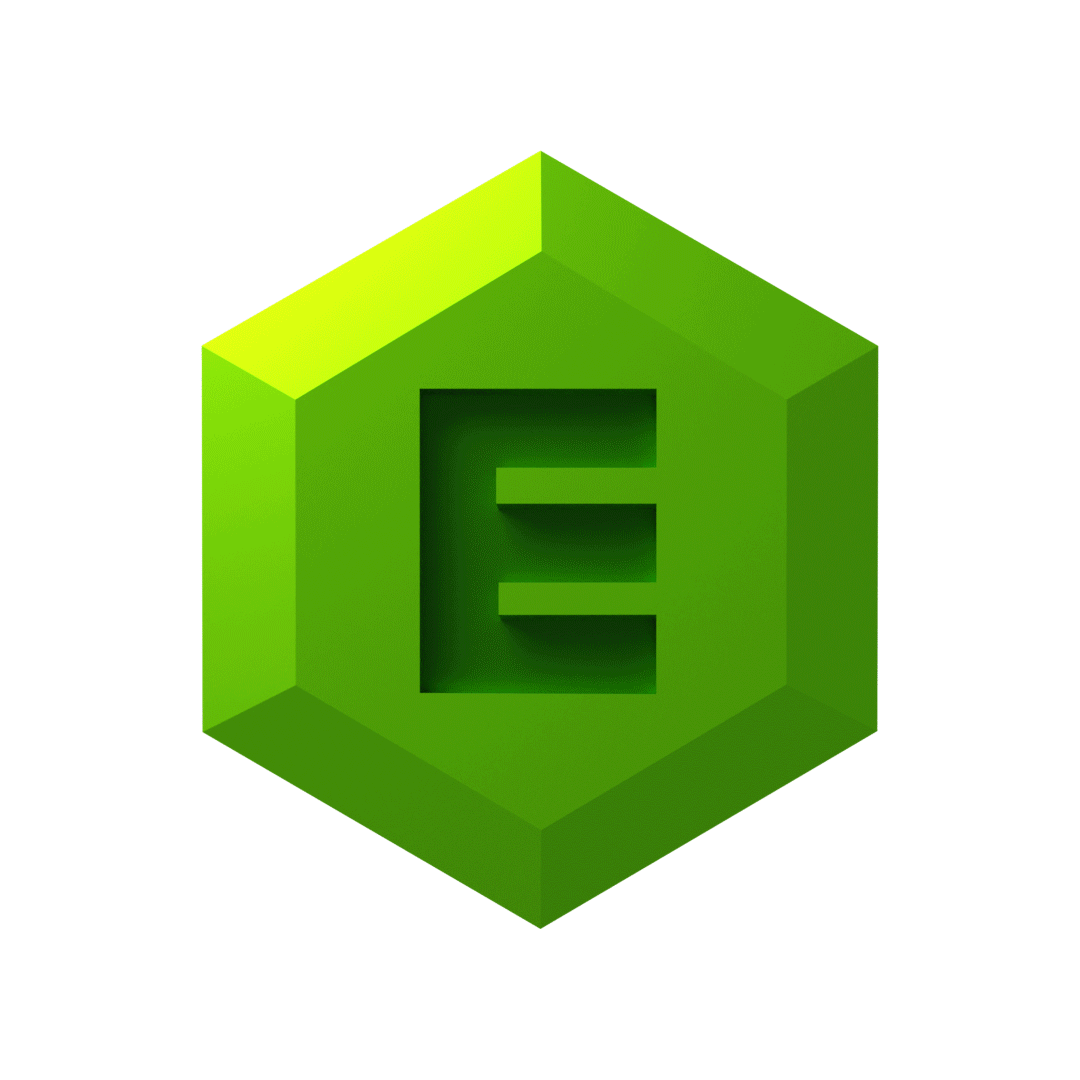 EMP Token is an ERC-20 standard crypto tokens on Polygon Network. It acts as the incentive game token for top players on the leaderboard and winners from Bounty Race mode.
You can buy and sell EMP tokens on w3gswap token swap powered by Web3Games.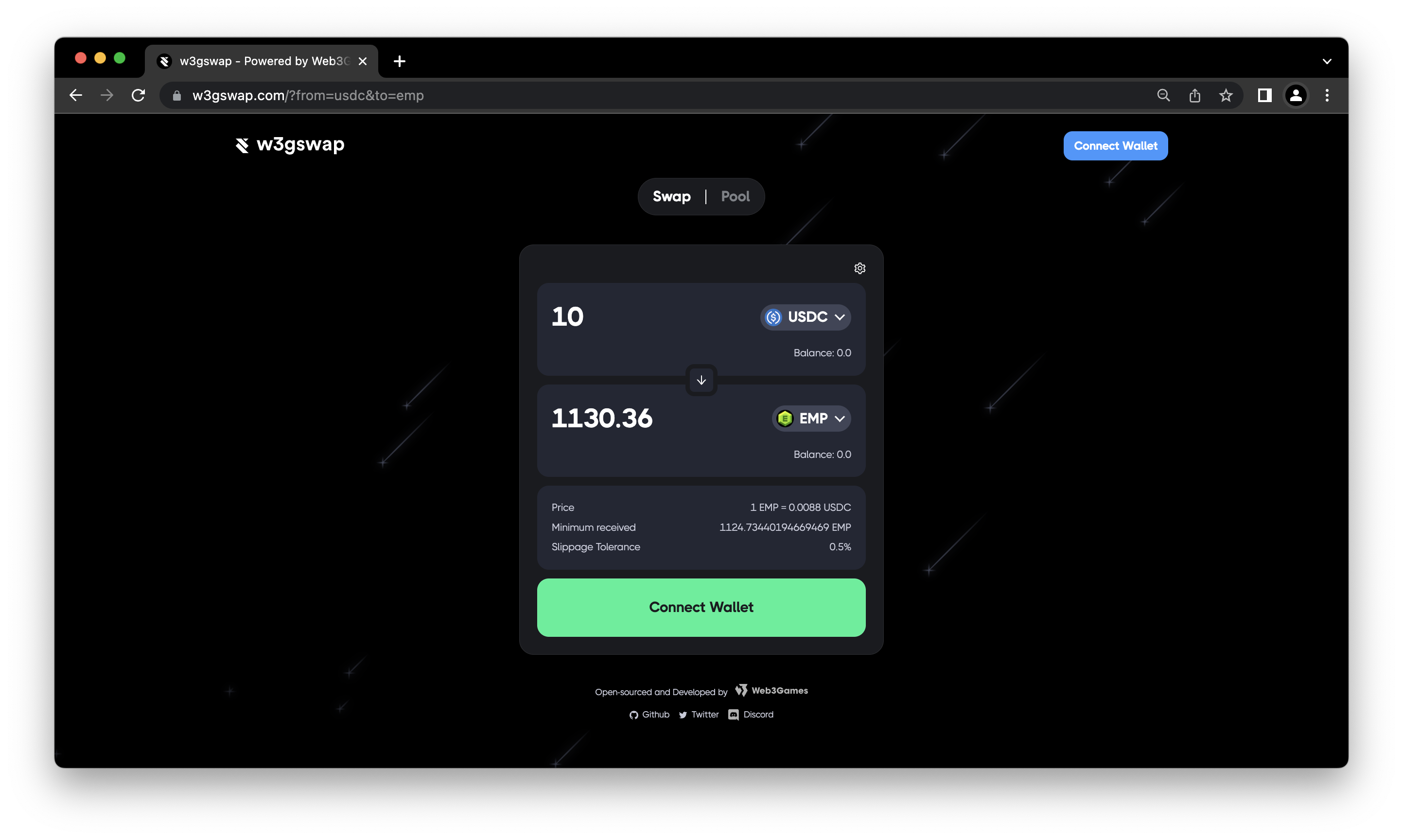 EMP tokens is a digital token trading available on market so its price is dynamic based on the demand and supply from the players.

Four Grades of CryptoEmpire Heroes
Heroes are the core NFT resource in CryptoEmpire. There are over 32 unique Hero characters to collect! To join match-3 battles, you'll need to assemble a team of at least 5 Heroes. You can acquire Hero NFTs through gameplay rewards, purchases on the marketplace, or transfers from your crypto wallet into the game.
1.

You can buy and sell CryptoEmpire Hero NFTs on NFT Marketplace powered by Web3Games.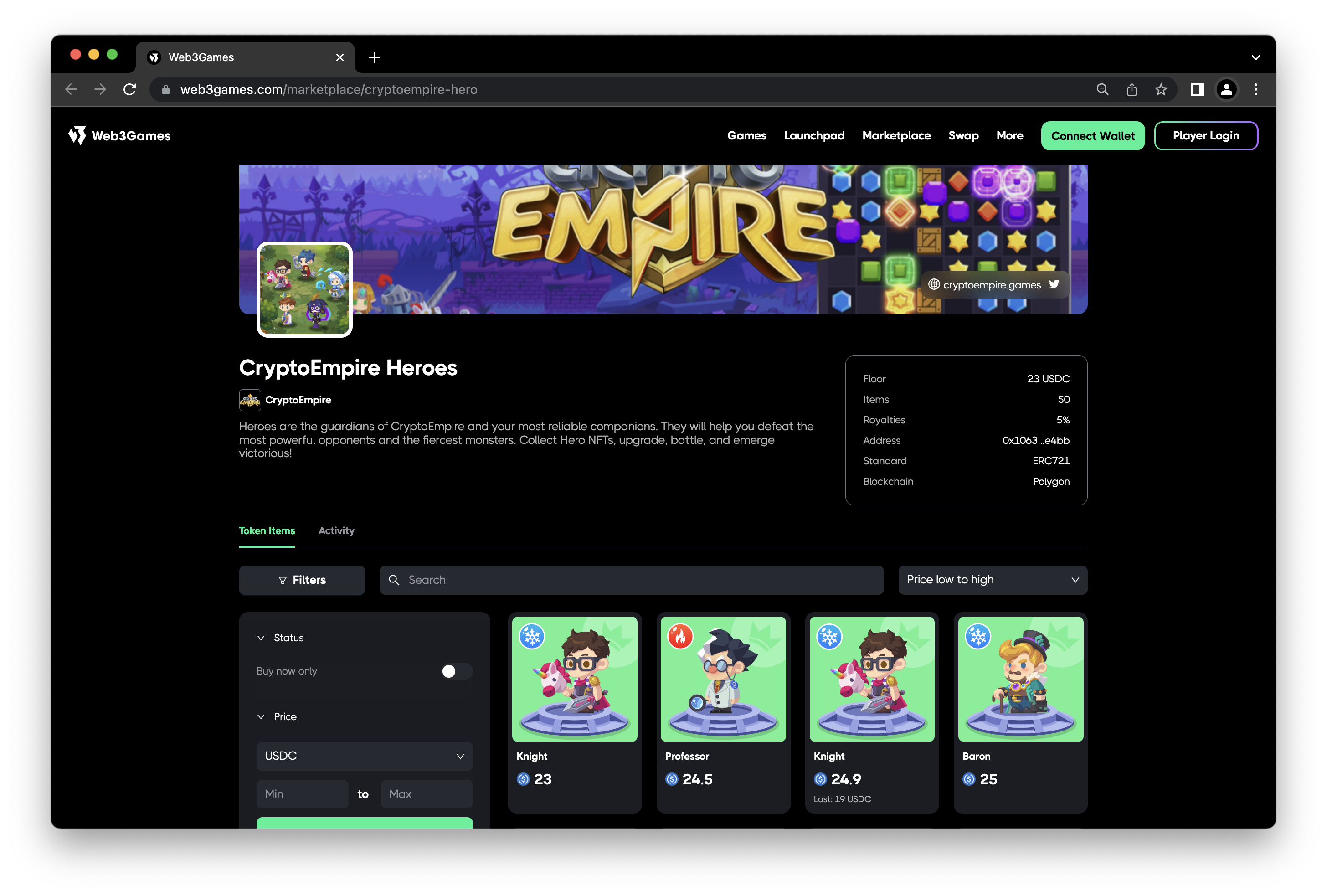 2.

Draw non-NFT heroes in the in-game shop
Each CryptoEmpire Hero has unique attributes and abilities. You can make your Heroes stronger through level-up by consuming GOLD within the game. Leveling up Heroes is key to defeating tough opponents. Make sure to check each Hero's attributes and abilities so you can create the best-balanced team.
Keep fighting battles, earning EMP tokens, and leveling up your Heroes to craft an unstoppable force. With the right team of specialized Heroes, you'll climb to the top of the leaderboards in no time!
In addition, when you withdraw your powered-up Hero NFTs from the game back to your crypto wallet, their metadata will be updated. This allows you to show off your seasoned warriors with boosted stats and abilities even outside CryptoEmpire!

Four Grades of Summoning Stones
Summoning Stones are the blind boxes of Heroes. You grant a Hero from summoning stones inside the game.
You can buy and sell CryptoEmpire Summoning Stone NFTs on NFT Marketplace powered by Web3Games.
You can also create summoning stones with your Heroes by summoning. After granting the Heroes from summoning stone NFTs, the summoning stone NFTs will be burnt. No one, not even the game developers, will have access to it!
Note: After the public release of CryptoEmpire, new summoning stones will not be NFTs (the previous ones will still be NFTs).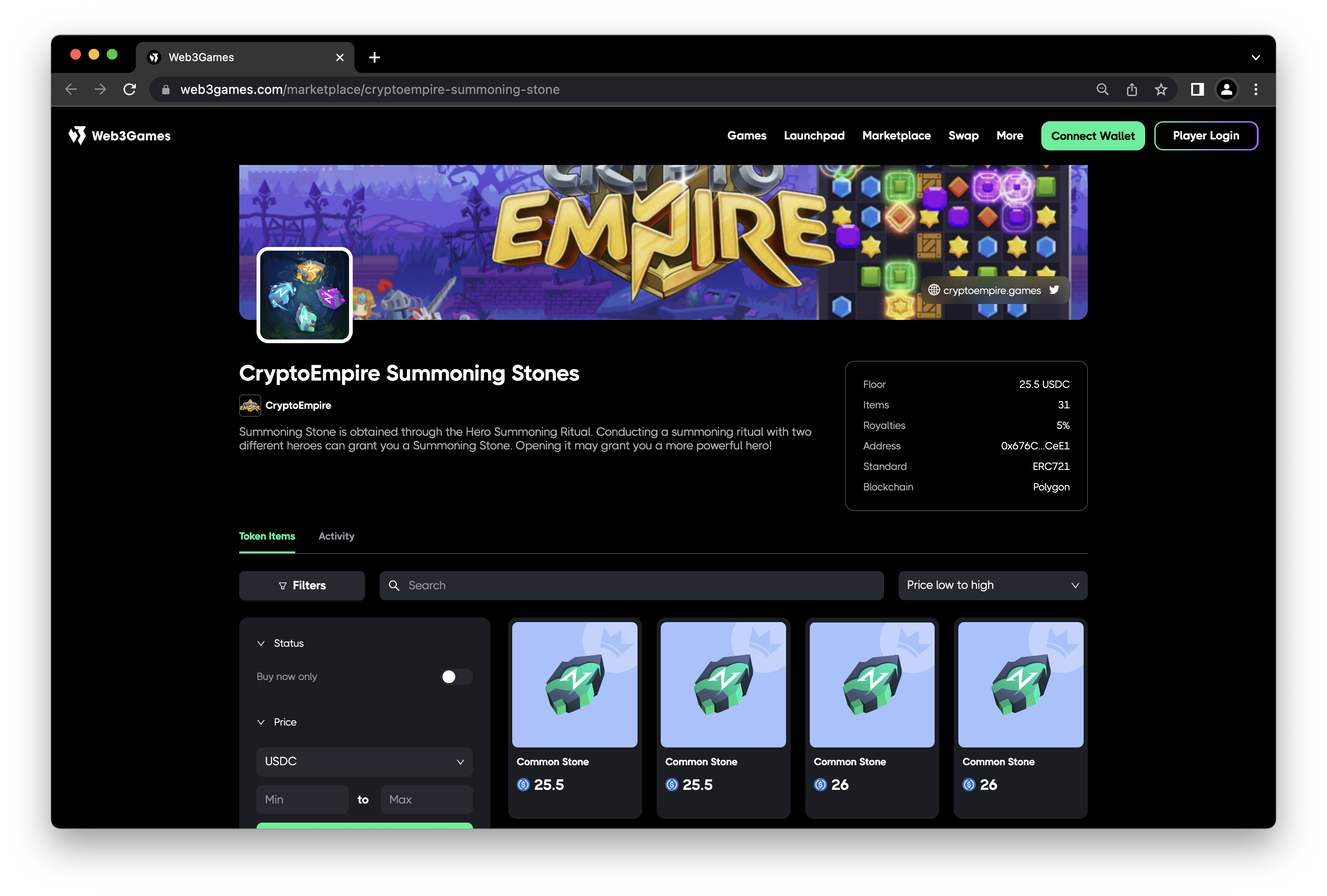 Now you should have a better understanding of how interesting crypto assets can work together with gaming by giving the freedom of owning and trading the gaming items. Just remember three crypto assets in the game: EMP Tokens, Hero NFTs and Summoning Stone NFTs. In the next chapter, we are going to show you step by step how you can purchase your Heroes (or Summoning Stones) and form the team to earn from battles.
At this point, you should have a solid grasp of how crypto assets can integrate with gaming in exciting ways. The key is giving players true ownership and tradability of in-game items.
In CryptoEmpire, there are 3 main crypto assets to remember:
EMP tokens - The in-game currency earned through leaderboard and Challenge Mode.

"Hero" NFTs - Unique character NFTs with different powers and abilities.

"Summoning Stone" NFTs - Special NFTs used to "summon" random "Hero" NFTs.
In the next chapter, we'll walk through the full process of acquiring your first NFTs and jumping into epic match-3 crypto battles!