There's a positive correlation between
Hero's Level
and
Attack
.
Gold needed for leveling up heroes show below:
Note
: When a hero reaches a certain level, it needs to ascend first to continue Level Up.
Ascension and hero spirit
Heroes will be unable to level-up if they reach the current level cap, thus, they need to ascend to increase the cap. This will also improve a character's attack.
To ascend a card, you need at least one hero spirit transformed from the same character. Ascension will bring heroes to a higher level cap, and cards of different ascension level will need different amount of gold.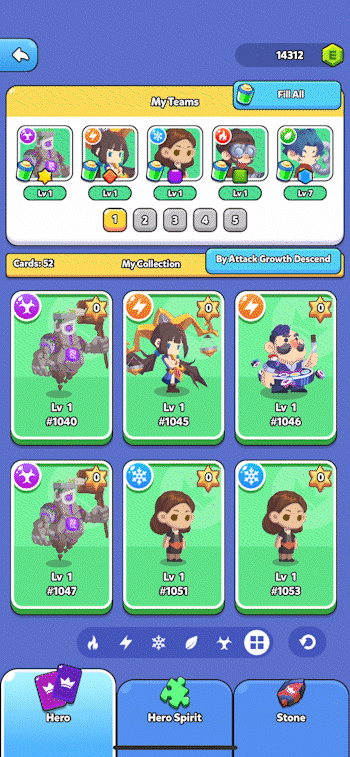 Ascension level is shown as "stars" on the hero's profile. Heroes starts with 0 stars and have a maximum of 9 stars.
Affect a heroes damage dealt. Higher level means higher attack.
A higher attack growth means higher attack gain after leveling up. There are several attack growth levels in CryptoEmpire, they are(in an ascending order):
A hero with level C attack growth will get relatively small amount of attack after leveling up, while heroes with SSS attack growth will have a tremendous amount of attack when leveling up.
Each hero can only summon 5 times. The cost of summoning will increase according to summoning count and hero rarities.
Player's energy will be influenced by the
5 rarest
cards
in the collection. Heroes with different rarities will provide different energies. The energy points provided show below:
After a hero is leveled up, the additional attribute points enable players to allocate on this hero is different based on rarity. More details see:
Attributes
​
All heroes have 1500 basic AP, and each battle will cost 25 AP.
Note: The AP
WILL NOT
recover, players need to refill the energy point with gold.
Gold needed = Grade*(1500-current AP)/10
Grade coefficient show below:
For example, if a common hero lost 30 AP, the recovering cost will be:
1*(1500-1470)/10 = 3 Gold